Gîte & Bed & Breakfast
We offer a unique form of accommodation in the Yonne area in the immediate proximity of the Morvan Regional Natural Park.

Two genuine caravans have now retired near the old train station in Guillon following a very busy life travelling with carnivals and touring with a circus.

Sheltered by ancient trees, lime and box, the caravans now replace the trains which used to pass by here between 1875 and 1965.

Before they start their new life as Bed & Breakfast in l'Astrance and gîte in La Vraie, they have been refurbished to a very high specification.
>> Diaporama - Description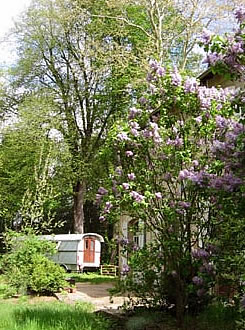 Where to find us
Epoisses, 6 km
Montréal, 8 km
Avallon, 18 km (A6 exit)
Semur en Auxois, 18 km (A6 exit)
Parc du Morvan - Quarré les Tombes, 20 km Noyers sur Serein, 25 km
Vézelay, 28 km Saulieu, 30 km
Chablis, 50 km
In Montbard you will find the TGV station (Paris is only 1h10mn away) and a coach can bring you from Montbard to a bus stop located 2km away from the old station in Guillon. If requested, guests can be picked up.